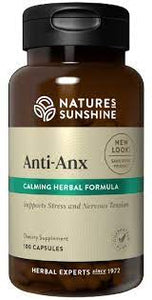 Nature's Sunshine Anti-Anx
Anti-Anx is a herbal combination that comprises of Hops Fruit, Passionflower herb, Rosemary Leaves and Valerian Root.
Valerian Root helps to support the nervous system and assist the body to relax, providing gentle support for sleep. Passionflower herb is used in alternative medicine for anxiety, insomnia, nervous disorders and seizures, whilst Hops fruit and Rosemary Leaves support the nervous system.
These four herbs have traditionally been used in Western Medicine for their relaxing and nervine properties. This formula may help support nervous tension, stress and mild anxiety.
Ingredients
Per capsule
Hops fruit (Humulus lupulus) 86 mg
Passion Flower (Passiflora incarnata) 86 mg
Rosemary Leaves (Rosmarinus officinalis) 86 mg
Valerian root (Valeriana officinalis) 86 mg
Recommended Dose
Adults: Take two capsules three times daily. To promote a restful sleep, take three to four capsules at night before bed