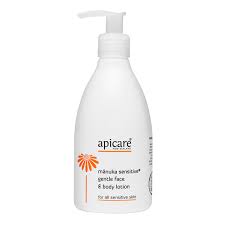 Formulated for sensitive and fragile skin to soothe and calm. A natural lotion that is rich in sebum compatible plant oils and Manuka honey, ensuring that it is absorbed rapidly. Leaves skin hydrated, calmed and soothed. Free from fragrance, colour, alcohol and petrochemicals. This light natural formula is the ideal solution for those with sensitive and reactive skins prone to areas of redness or blotchy skin. Oat kernel and licorice extract help with irritation and itching and Calendula flower oil helps speed up healing.
Key Benefits
Suitable for sensitive and fragile skins.

Hydrates thirsty skin naturally, leaving it calmed and soothed.

A l

ight formulation that is ideal for use in hot and humid climates.

Free from mineral oils, synthetic fillers, fragrance, alcohol and colour.

Contains Oat Kernel & Licorice to soothe with Calendula oil to help heal damaged skin.
Oat Kernel (Collodial) Extract
Oatmeal has a number of biologically active properties that are benefical in skin care treatment. Collodial Oatmeal is a very finely ground powder and is used to help atopic dermatitis, contact dermatitis, chickenpox, dry skin and reactions to insect bites.
Studies have shown that colloidal oatmeal binds to the skin and provides a protective barrier against irritants. It contains water binding polysaccharides (long chain sugars) and hydrocolloids that hold moisture against the skin allowing it to act as an emollient.
Oatmeal also has a range of other components that exhibit anti oxidant and anti inflammatory activity as well as ultraviolet light absorption.
Licorice (Glycyrrhiza Glabra) Extract
Contains glycyrrhetinic acid an anti inflammatory and anti irritant making it an excellent healing and anti-inflammatory ingredient.  Also has skin whitening properties.
Calendula Flower Oil
Calendula is widely known as a healing herb due to its gentle, cooling and soothing properties. High in carotenes, phytosterols and polyphenols. Calendula oil promotes skin healing & cell regeneration. 
Five major steps occur in our skin's healing process. Calendula with its potent and complex array of phytonutrients help facilitate the healing cycle every step of the way.
Calendula reduces inflammation of the tissue by inhibiting lypoxygenase, and enzymes that damages cell wall structure. It contains high amounts of flavonoids, plant based antioxidants that protect the body against free radical cell damage. 
Calendula oil is beneficial for all skin types and is an excellent remedy for all kinds of skin damage such as wounds, scars, abrasions, skin inflammation, dry and damaged skin, diaper rashes, Eczema and common itchy skin irritations.