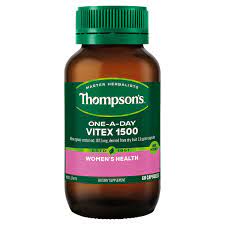 An herbal formulation that provides relief for PMS and helps regulate menstrual cycle!
Formulated with vitex extract which helps provide relief for symptoms of PMS, such as crankiness, breast pain, bloating and fluid retention.
Helps regulate menstrual cycle.
Promotes general well-being.
About Thompson's Nutrition
Dedicated to efficacious natural healthcare based on credible science, the Thompson's brand was established by the respected English herbalist M. Barrington Thompson. Today, Thompson's is a market leader in natural healthcare in New Zealand, enjoying positive growth in Australia and exporting products around the world. Thompson's are continually seeking solutions that will drive better health outcomes and deliver a range of healthcare benefits to support a healthy lifestyle.
Product description:
Vitex agnus-castus or chaste tree fruit has been used as a natural remedy for premenstrual syndrome and irregular periods for centuries. Vitex contains compounds that does not directly affect hormone levels but affects the pituitary gland responsible for regulating the production of hormones, such as estrogen and progesterone.
Each capsule of Thompson's One-A-Day Vitex is formulated with one gram of vitex extract. It is an oral supplement suitable for women who suffer from irregular period, women who want to relieve premenstrual syndrome symptoms and women who suffer acne breakouts.
Suitable for:
Women who suffer from premenstrual symptoms such as nervous tension, moodiness, bloating, fluid retention and breast pain.
Women who seek a supplement to regulate their menstrual cycle.
Women who suffer from or prone to irregular periords.
Individuals who suffer from or prone to acne.
Individuals who seek a supplement to maintain or improve general well-being.
Active Ingredients:
Herbal extract equiv. to dry:
Vitex agnus-castus (Chaste Tree) fruit 1.5g (1500mg)
Directions of Use:
For adults, take one capsule daily, first thing in the morning or as prescribed by a healthcare professional.
Storage: Store below 30oC in a dry place
Cautions & Interactions:
If fluid retention or other symptoms persist, consult your healthcare provider.
Use only as directed and always read the label.