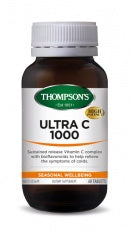 Thompsons Ultra C assists the body's immune system.
The primary function of Vitamin C is in the manufacture of collagen. Collagen is a protein and part of connective tissue, cartilage and tendons that hold the body together, making Vitamin C useful for repairing wounds, preventing bruising and keeping gums healthy. In addition to its role in collagen metabolism, Vitamin C is also critical to immune function, the manufacture of certain nerve transmitting substances and hormones, and the absorption and use of other nutritional factors.

 Vitamin C affects immune function by enhancing white blood cell activity and increasing interferon levels and antibody responses. During times of chemical, emotional, physical or psychological stress, the urinary system excretes Vitamin C in significant amounts, thereby increasing the body s need for this vitamin. Vitamin C is the first line antioxidant protection, making it one of our most important antioxidant nutrients.

 Thompson s Ultra C supplies Vitamin C in the advanced Poly-ascorbate form. This state-of-the-art process has distinct advantages over ordinary Vitamin C. Firstly, better absorption, due to the bonding of Vitamin C to mineral ascorbates, and Ultra C is gentler on the stomach than other Vitamin C complexes that use highly acidic ascorbic acid (pH 2.4). Often an increase in Vitamin C causes an increase in the excretion of the minerals Calcium, Magnesium, Potassium and Zinc, Ultra C protects against mineral loss by supplying minerals actually bonded to Vitamin C.

 Ultra C also provides the valuable cofactors Bioflavonoids, Rosehips and Zinc to further enhance the action of the complex
 Ultra C is a sustained release formulation to supply consistent amounts throughout the day.Vitamin C benefits the body in numerous ways, boosting immunity, guarding against pollution, cigarette smoke and stress, enhancing wound repair as well as reducing the risk of cataracts. Vitamin C may assist with the treatment of colds by reducing the severity and duration of symptoms. It may also assist in the relief of hayfever and allergies.

 A safe recommendation during pregnancy is 500mg daily.