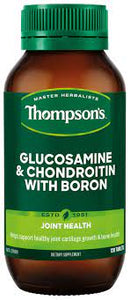 Thompsons Glucosamine and Chondroitin with Boron is an effective joint support supplement specially formulated to promote healthy joints and provides symptomatic relief from osteoporosis and osteoarthritis. At 2 tablets a day, this joint formula contains a clinically proven dosage of glucosamine for optimum joint mobility. Added with boron for healthy bones.
Glucosamine is a naturally occurring compound in the body. It is a structural component of cartilages. Glucosamine is important in maintaining mobile, flexible and healthy joints. It can also prevent joint pain and stiffness.
Chondroitin sulphate is another structural protein important in cartilage synthesis. It also aids in the production of collagen and blocks the action of cartilage digesting enzymes. Chondroitin neutralizes free radicals to prevent the onset of inflammation which cause joint pain. Together with glucosamine, it maintains cartilage health, and prevents joint wear and tear.
Thompsons Glucosamine and Chondroitin with Boron benefits:
Helps to support healthy joint mobility
Assists to maintain healthy joints and cartilage
Provides boron which supports healthy bone structure, composition and strength
Thompsons Glucosamine and Chondroitin with Boron is suitable for:
Those looking to support healthy joints
Athletes and physically active individuals wishing to keep joints healthy
Thompsons brand of Vitamins is one of the natural health leaders in New Zealand using only high quality ingredients.
Directions
Adults – Take one to two tablets daily (with food), or as professionally advised
Storage: Store below 30°C in a dry place
Activate Ingredients
Glucosamine hydrochloride 

750 mg

Chondroitin sulfate – bovine sodium 

225 mg

equiv. Chondroitin sulfate 

205 mg

Borax

13.3 mg
No Added
Corn, dairy, egg, gluten, lactose, nuts, peanuts, fish, sugar, sesame seed, artificial colouring, flavouring and preservatives.
Cautions
Use only as directed and always read the label
If symptoms persist, consult your healthcare practitioner
Not recommended for use in pregnant or lactating women unless advised by your healthcare professional
Glucosamine is derived from seafood – not recommended for use in individuals with allergies to shellfish