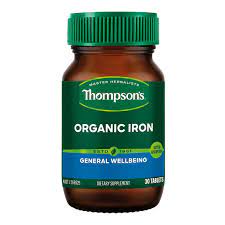 Thompson's Organic Iron 24mg is formulated as a blood tonic to maintain normal blood in healthy individuals and is useful during pregnancy when a woman's iron need increases.
Benefits:
It may assist with the management of dietary iron deficiency
Helps maintain normal blood in healthy individuals
Assists to manage dietary iron deficiency, particularly in women
Helps to maintain adequate dietary intake of iron during pregnancy when iron requirements increase
Iron is required for the formation of haemoglobin, which transports oxygen to the tissues
Each tablet contains:

Iron (as Amino Acid Chelate) 24mg
Ascorbic Acid (Vitamin C) 30mg
Folic Acid 100mcg
Cyanocobalamin (Vitamin B12) 2 mcg
Directions
Adults: One tablet daily (with food), or as professionally advised.
Precautions
Use only as directed and always read the label
Vitamin supplements should not replace a balanced diet
Not for the treatment of iron deficiency
If symptoms persist, consult your healthcare practitioner
Keep out of reach of children. 
Do not use if bottle and/or cap seal is missing or broken.
Store below 30°C in a dry place.