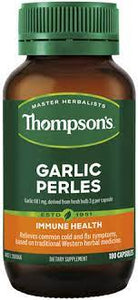 DESCRIPTION
Dosage:
Take one capsule twice daily (with food), or as professionally advised
Description:
Thompson's Garlic Perles are a highly concentrated odourless garlic oil equivalent to a potent 3g of fresh garlic dose per capsule

Garlic has been used as a healing herb for over 2000 years as a natural antibacterial. Thompson's Garlic Perles help to support to thin and clear mucus and support healthy immune functions and circulation. Ideal to be taken all year round to support immunity and against ills and chills. 
Benefits:
Helps to thin and clear mucus
Assists healthy immune functions
Supports healthy circulation of feet and hands
INGREDIENTS
Each perle capsule contain, 

Natural garlic oil (concentrated) 1 mg
 - equiv. to Allium sativum (garlic) bulb fresh 3 g
CAUTIONS
Use only as directed and always read the label

If symptoms persist, consult your healthcare professional

Not to be used in children under two years of age without medical advice