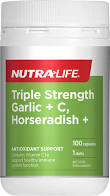 Nutra-Life Triple Strength Garlic + C, Horseradish + provides powerful support during allergy and hayfever seasons. Formulated with Garlic, Horseradish, Vitamin C, Histidine, Marshmallow and Perilla.
This powerful formula combines Garlic and Horseradish, which are used to support the body during times of hayfever and colds. 
Taken when required, Nutra-Life Triple Strength Garlic + C, Horseradish + may help:
Provide support during times of hayfever and allergy
Provide support when experiencing cold symptoms
Provide antioxidant support
Each Capsule Provides:
Herbal extracts equiv. dry:
Armoracia rusticana (Horseradish) root 1.5g
Perilla frutescens seed 250mg
Althaea officinalis (Marshmallow) root 50mg
Trigonella foenum-graecum (Fenugreek) seed 50mg
Herbal extract equiv. fresh:
Allium sativum (Garlic) bulb 900mg
Cofactors:
Ascorbic acid (Vitamin C) 500mg
Histidine 50mg
Also contains: Encapsulating aids.
Formulated Without: Gluten, wheat, dairy products, egg, soy, artificial colours, artificial flavours or artificial sweeteners.
Directions
Adults: Take 1 capsule daily with food, or as directed by your healthcare professional.
Precautions
If symptoms persist, consult your healthcare professional.
Vitamin supplements should not replace a balanced diet.
People with diagnosed diabetes should check with their doctor as blood sugar levels could be altered when using this product.