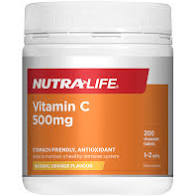 Nutra-Life Vitamin C 500mg is a great-tasting, natural orange-flavoured chewable tablet that provides 500mg of Vitamin C to help maintain a healthy immune system.
Immune support is especially helpful during winter, stressful periods, or any other times when the immune system is under pressure. 
More than just an immunity nutrient, Vitamin C provides powerful antioxidant support. It also plays a role in forming collagen, which means it can help to maintain healthy skin, gums, and capillaries.
Supports the maintenance of the health immune system
Provide antioxidant support 
Support skin, gum, and capillary health
Each Chewable Tablet Provides:
Vitamin C (Ascorbic acid) 262mg
Vitamin C (as Sodium Ascorbate) 238mg
Total Vitamin C 500mg
Sugar 0.6g
Also Contains: Natural colour, natural flavour, natural sweeteners, tabletting aids, glucose, sucrose, stevia.
Formulated Without: Gluten, wheat, animal products, dairy products, egg, soy, artificial colours, artificial flavours or artificial sweeteners.
Suitable for vegetarians.
Directions
Adults: Chew 1-2 tablets daily.
Children 3 Years and Over: Chew ½ - 1 tablet daily. Or as directed by your healthcare professional.
Tablets may be chewed or sucked.
Precautions
Not to be used by children under 3 years of age without medical advice.
If symptoms persist, consult your healthcare professional.
Vitamin supplements should not replace a balanced diet.