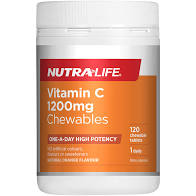 Nutra-Life One-a-Day Vitamin C 1200mg is a high strength, one-a-day Vitamin C that is a great-tasting, natural orange-flavoured chewable tablet that provides 1200mg of Vitamin C per tablet to help maintain a healthy immune system.
Immune support is especially helpful during winter, stressful periods, or any other times when the immune system is under pressure. More than just an immunity nutrient, Vitamin C provides powerful antioxidant support. 
It assists in the normal healing and repair of skin, and iron absorption. Vitamin C helps to form collagen and maintain healthy gums and capillaries. 
Support skin and gum health
Provide powerful antioxidant support
Suitable for vegetarians
Each Chewable Tablet Provides:
Vitamin C (Ascorbic acid) 629mg
Sodium ascorbate 649mg
  Equiv. Vitamin C (Ascorbic acid) 571mg
Total Vitamin C 1200mg
Also Contains: Natural flavours, natural colours, tabletting aids.
Formulated Without: Gluten, wheat, animal products, dairy products, egg, soy, artificial colours, artificial flavours or artificial sweeteners.
1.5g of sugar per tablet.
Directions
Adult: Chew 1 tablet daily, or as directed by your healthcare professional.
Precautions
Vitamin supplements should not replace a balanced diet.