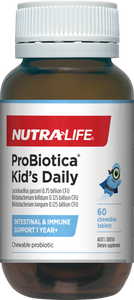 Nutra-Life Probiotica for Kids supports the health and function of the immune system.
Any parent with young children knows a healthy immune system is important at all times, but particularly at daycare, school and at the local playground. Luckily, we know a healthy digestive system plays a fundamental role in maintaining good immunity and general well-being.
Good intestinal or gut microflora (bacteria) is important for helping to support the health of the digestive tract. Probiotics may assist in maintaining healthy gut microflora and may also support the health of the digestive system following antibiotic use.
Nutra-Life Probiotica for Kids is a yummy vanilla flavoured chewable tablet specifically formulated just for kids using a proprietary blend of scientifically researched strains of non-dairy, good bacteria.
DOSAGE
Recommended Daily Dosage: Children 3 years +: Chew 1 tablet daily with food. Children 1-3 years: Crush 1 tablet and mix with cool food or liquid once daily. Or as directed by your healthcare professional.
INGREDIENTS
Each chewable tablet provides Proprietary Blend 1 billion CFU from:
Lactobacillus gasseri 0.75 billion CFU
Bifidobacterium bifidum 0.125 billion CFU
Bifidobacterium longum 0.125 billion CFU
Tabletting aids
Flavour
FORMULATED WITHOUT
Gluten, wheat, animal products, dairy products, egg, soy, artificial colour, artificial sweeteners or preservatives.
Suitable for vegans and vegetarians.