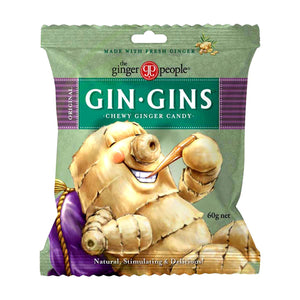 Gin-Gins Crystallised Ginger Candy is big succulent chunks of crystallized baby ginger to enjoy as a soothing sweet-hot treat. A tasty snack straight from the bag, or chop and toss them into morning granola, a hot cup of tea or incorporate them into your favourite cookie recipe!
Gluten free
No artificial ingredients 
GMO free
Vegan
Great for all sorts of travel

Cane sugar
Ginger
Tapioca starch

Nutritional Information:

Serving Size about 12g (2 pieces):

Energy 187kj
Protein 0g
Gluten - Not detected
Fat - total 0g
 Saturated 0g
Carbohydrates 0g
 Total 11g
 Sugar 7g
Sodium 3mg

This product is made in a facility that also processes soy and peanuts.