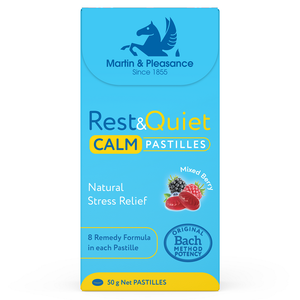 Rest&Quiet Calm pastilles formula is traditionally used to calm the mind & relieve symptoms of stress and mild anxiety. In convenient cartons, the pastilles are perfect to leave in your car or handbag for daily use when you need some inner calm on the go.
Rest&Quiet Calm Pastilles contains 4 drops of the Calm formula of the 8 remedy formula in each pastille. Made with Dr Bach's original formulation (Cherry Plum, Clematis, Impatiens, Rock Rose & Star of Bethlehem) with an additional 3 remedies (Aspen, Mimulus & White Chestnut) to give the emotional support to overcome our daily stressors that we now face in our ever-changing world.
Your moment of calm.
Manufactured to Dr Bach's original potency method & specifications.
Now available in a delicious Mixed Berry flavour
Alcohol Free
Not diluted to homeopathic potency
Suitable for breastfeeding & lactation
Gluten Free
Flower remedies & indications
Original Dr Bach formula:
Cherry Plum – Self-control
Clematis – Concentrated & grounded
Impatiens – Patience & forgiveness
Rock Rose – Calm
Star of Bethlehem – Accepting of the inevitable
With additional:
Aspen – Optimism & trust
Mimulus – Bravery
White Chestnut – Serenity & clarity
Directions for use: Chew one pastille as required. Repeat as necessary.
Size: NET 50g carton
Excess consumption may have a laxative effect. Contains a source of phenylalanine.
Ingredients: Sorbitol and maltitol syrup (46%), gelling agent: gum arabic (42%), acid: citric acid (2.5%), flavours (0.7%), humectant: glycerine (0.7%), L-ascorbic acid (vitamin C) (0.6%), sweeteners: acelfame K and aspartame (0.2%), colour: anthocyanins (0.1%), raspberry juice concentrate (0.1%), coconut and rapeseed oil (0.1%), glazing agent: beeswax (0.1%), menthol (0.01%), Rest&Quiet Calm Remedy Formula (Aspen, Cherry Plum, Clematis, Impatiens, Mimulus, Rock Rose, Star of Bethlehem, White Chestnut)