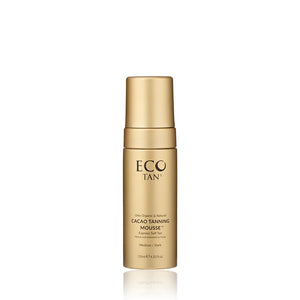 If you love the smell of a Jaffa and the texture of a mousse, our Cacao Tanning Mousse is perfect for you. It will give you a luxurious deep, earthy bronze tone. It's non-sticky, smells amazing, dries instantly and is never orange - what more do you want?
Without the need for the sun's damaging rays, achieve your tanning dreams with this lightweight formulation that glides over your skin and offers a beautiful long lasting natural colour suitable for all skin tones. Our self tanning mousse is free from artificial orange dyes or any synthetic or artificial ingredients, and with no nasty chemical smell it's perfect! In fact, the first ingredient on our list is hydrating aloe vera!
Meet our superstar ingredients:
Cacao provides a boost of antioxidants and omega 3 fatty acids, to plump the skin and give it healthy shine
Grapefruit is rich in the antioxidant beta carotene, which transforms dull, dehydrated complexions to leave your skin beautifully radiant. It also works to even out skin tone for a smooth complexion, perfect for tanning!
Blood orange drenches the skin with vitamins A and C, maintaining its natural glow and health.
Tip: For best results, apply two coats. For a light coat, you can leave it on for one hour. Or if you're like me, I do a double coat, get dressed and go about my day, or I sleep in it.