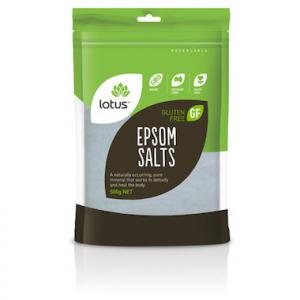 Lotus Epsom Salt is not actually salt but a naturally occurring, pure mineral that works to detoxify and heal the body. A mix of magnesium and sulphate, these salts are absorbed through the skin. Add to a bath for maximum benefit.
Lotus Epsom Salt is sourced from China and packed in Australia. It comes in 250gm re-sealable oxygen barrier bag to preserve freshness.
Lotus Epsom Salt is high in magnesium sulphate. It is non GMO, gluten free and vegan.
INGREDIENTS: